Correction Detail – TheMattFinish Signature Package
The Correction Detail, TheMattFinish Signature Package is the highest package that is on offer.
This package is the creme de la creme and covers all that can be thought off on the car, the list can be endless. For example, From deep cleaning of the wheels to the arches, to removal of badges and pieces of trim in pursuit of the perfect finish
Due to the nature of the package and what is involved, it is highly recommended that the car is brought in before the commencement of the detail to be inspected and a list of requirements drawn up. This may include but not limited to paintless dent removal, wheel refurbishment, paint protection film, wheel hub, and caliper refurbishment and replacement glass screens.
As can be imagined with this package it is time-consuming and carried out over many days and hours calling upon all skill and experience to achieve the close to the perfect finish. You will be amazed at results wielded from this package as it is guaranteed to take your car past better than new condition.
Upon arrival, the car goes through a thorough wash and decontamination wash stage to safely remove any bonded contamination ahead of work. In this process the wheels are removed to deep cleanse the wheels and the arches of dirt and grime, the engine bay is deep cleaned along with all shuts door and boot, etc.
The paintwork is decontaminated with the use of fallout removers, tar and glue removers, and clay which is a physical product removed to shift any harder contaminated areas. The car is then moved into the unit where it is dried ahead of a full paintwork inspection.
The paintwork inspection includes the car being checked over with various light sources to determine the defects that are on the car, these are marked with tap and documented via pictures that are collated and handed over on completion.
The aim of the detail is to remove defects such as;
-Swirl markings
-Wash related defects such as marring
-Bodyshop or dealership defects such as buffer trails and hologram removal
-Sanding flattening marks, Pig tail sanding marls common from DA Sanding on prep work of paintwork
-Deep scratches
*Please note deep Scratch removal will only be conducted if safe and the paint readings allow for removal with damaging the integrity of the clear coat 
Paint thickness readings are taken with a Paint Depth Gauge often as we focus on removing as little as possible to main the longevity of the car's clear coat.
Unlike with an Enhancement Detail, The Correction detail has a multi-stage process with many sets carried out with a machine polish to gain the required finish.
After the machine polishing stages are completed the car is dusted down and wiped down with panel wipe degreasers to remove any trace of oils or polishes that maybe on the surface. This is an important step as if any oils and polish remain the protect that is carried out on top will not be able to bond and adhere and would, therefore, fail very quickly.
As part of the process of the Correction Detail, a dual-layer of ceramic coating is applied as part of the package to all paintwork surfaces along with the front and back of the wheels and the calipers. The glass is coated with a durable coating and the interior is fully cleaned and protected. All other areas are then treated such as engine bays, arch trims, etc.
Ceramic coatings are a buzz word in the detailing industry and have become very popular over the past few years. Here at TheMattFinish, we like to test all products before they make their way to customers' cars and ceramic coatings are no different. Many large brands have been trialed and many have failed to deliver what is needed for our clients. If you would like to upgrade your coating choice please see below for the various options and please contact me for any further questions.
Due to the nature of this process, this package must be completed indoors. This can be provided at TheMattFinish HQ in Sittingbourne or at clients choosing with adequate space and amenities.
Due to the process involved, it is necessary to book in advance and a non-refundable deposit may be required.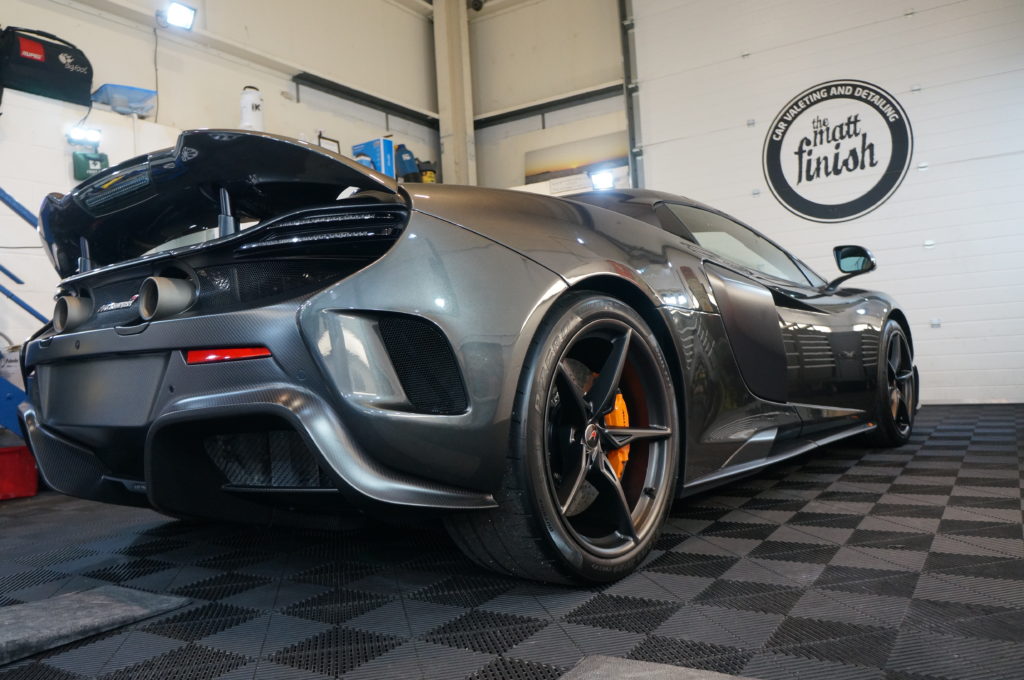 Here is an explanation of what goes into getting your car ready;
-Safe deep wash using two bucket method
-Paintwork decontamination with the use of iron fallout/tar remover and then clayed
-Engine bay cleaned and dressed
-Wheels removed to deep clean arches and wheels
-IPA/Panel wipe down
-Multi-stage machine polish to lift the colour and the gloss of the car removing defects were possible within the paint readings taken (As close to perfect as possible)
-IPA/Panel wipe down
-Interior is cleaned, leather areas treated to Dr Leather Dye Block and non-leather areas with Gtechniq I1
-Alloys removed and protected with two layers of ceramic coating
-Calipers ceramic coated
-Single-layer of ceramic coating applied to the paintwork and any other exterior surfaces
-Glass sealant applied to all exterior glass
Ceramic Upgrades;
Labocosmetica Dual-layered system STC + HPC £295
Labocosmetica Dual-layered system Blindo + HPC £425
Titan Ceramic Coating Dual Layer Titan + Zeus £395
Titan Ceramic Coating Dual Layer Vulcan £495